Hello from the Design team at Patina!
Some people are unaware we design furnishings in house here at Patina. Not only do we switch up old tired upholstery with fresh new fabric, but we also make things from scratch! We have our own workshop and upholstery space in our studio. We've been putting our minds to new designs since the day Patina was born, but only a few years ago did we collect the ever so talented design team in house to do it! You've seen our batik ottomans, vita sofas, our brooklyn + hudson dining tables, tin, sugi ban, and reclaimed bars along with our macrame panels and rope walls over the last few years. But boy are we bursting at the seams about these new sofas we've been cooking up!
We've been quite busy this winter in our design room, brewing up the most perfect mid-century inspired sofa. One that can go with several pieces in our inventory, colors that are fresh, shapes that entice, materials that are too good to stain or enhance, something new but refreshing to the industry:
The supply sofa built with curves, raw materials, textured fabrics, but yet cozy to sit on and easy to pair with staples we already have in house. We are proud to introduce our supply sofas.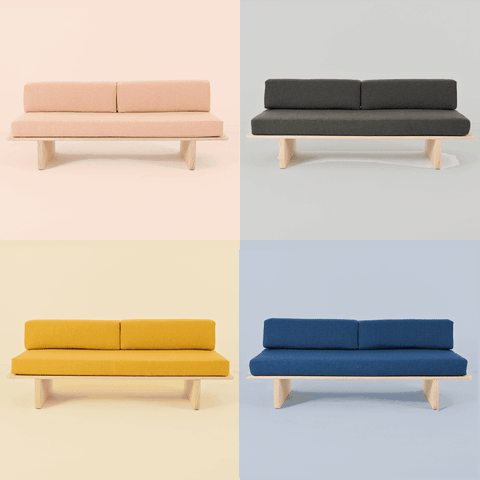 After sitting down with our design team discussing all the details, Kevin ordered up all the materials to fly through the project with. Once the wood + hardware rolled through the doors, he started sawing and meticulously sanding to shape the ply wood giving the frames a nice concentrated smooth curve. We love a good swanky curve in furniture here, its one of those things that gets our hearts beating!
Kevin constructed this piece with a ton of love, working really hard on getting those edges oh so smooth, and making sure the supplies all came together seamlessly. He cut, shaped, and assembled 16 legs + 8 complete backboards. Damn Son! Once you rent these bad boys, you'll see the beautiful craftsmanship at first glance. So lucky to have such talent here in the Patina Crew to be able to take an idea and craft it to become reality!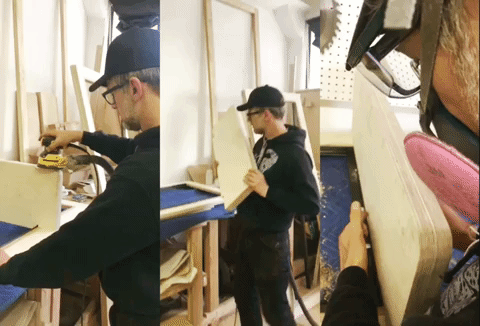 Moving onto the upholstery side of things… now- you can't have a sofa without some cozy cushions to park your fanny on. Another crazy talent on our team is Taylor, who does our upholstery here at Patina. She is a perfectionist that is truly passionate about her craft. If you have a chance, pop into her office and say hello, see whats she's currently working on— It will brighten your day!
Pulling fabric swatches is always the fun part of a design project. What four colors do we want to cover our new sofas in was the big question for months. Well… we know how all y'all feel about pink- so that was a no brainer. But, the Goldie Locks yellow, now that is the freshest color choice of the mix- a new and exciting color to add into our inventory. The cobalt blue pops real nice + you know we can't do a project with out adding a neutral slate grey to the mix.
Taylor got to business by drawing up the patterns, cutting the fabric, pinning everything together and began sewing up a storm. These cushions are impeccable with straight seamless lines…. she's a wiz! One by one, day by day, her progress started to pile up before our eyes. Before you knew it, the cushions were in and she was stuffing those bad boys and zipping them up. And seriously stop everything… those cushions were shining.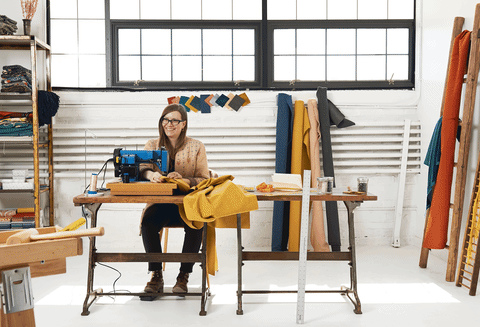 Just in time for the prototype to be ready for the cushions to go on. The entire company gathered to take a peek, its always epic when a concept comes to life around here. A few bits of feedback and the first Supply sofa was made within days. Magic!
Now Off to the photo studio they went!
Ama styled them around the studio a bit to get a few looks together to show off with some companion pieces from our Icon Collection (see photo gallery below). We are so happy with how they came out and are tres excited to see where you bring them and how you piece them together! We have 2 of each color, so 8 in total. Mix and match them, pair them with other tweed pieces, neutrals, super colorful, velvets, leathers- the world of the Supply Sofas are now in your hands, and we are happy to hand them over to you pros!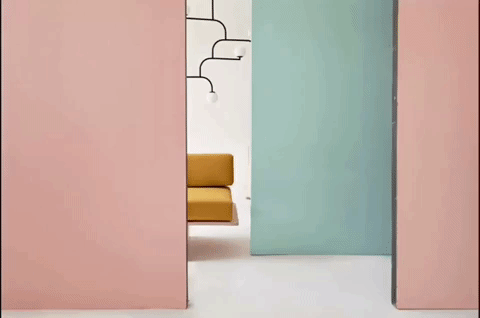 SaveSave
SaveSave
SaveSaveSaveSave
SaveSave
SaveSave
SaveSave
SaveSave
SaveSave
SaveSave
SaveSave
SaveSave
SaveSave
SaveSave
SaveSave
SaveSave
SaveSave